Things To Do in Normandy in September
My top five things to do in Normandy in September include a caramel event, a flower festival and visits to heritage sites.
Heritage Weekend
Every year in mid September a wonderful event takes place to celebrate history and heritage throughout France. The event is called Les Journées du Patrimoine and features activities with a heritage or historic theme. Normandy's programme is made up of over 600 events across the five departments including concerts, workshops, exhibitions, visits to churches, abbeys, castles, priory and mansion houses. Many events are free with the remainder offering preferential rates.
Highlights for visitors to La Manche region will be the Christian Dior Museum in Granville, Cité de la Mer maritime museum in Cherbourg and Mont Saint Michel abbey. The Dior exhibition theme changes each year so there is always something new to discover. For 2022 the exhibition focusses on hats.
Directions
The Dior museum is on the outskirts of Granville. It's at 1 rue d'Estouteville, 50400 Granville. You can also walk up the steps from the town although it is a fairly energetic walk up the cliff. The steps are at the end of the promenade on the Plage du Plat Gousset.
Notes
The Heritage Weekend will take place on 17th and 18th September. Take a look at the full programme on the website. There is a separate page for each department including La Manche and also Calvados.
You need to book a place online to attend the Dior Museum via the link which will go live on 12th September. The event is free and is open from 10am to 6.30pm on both days.
Hints and Tips
Check the programme to find out whether you need to book a place or can just turn up. Plan a route and calculate travel time if you want to attend several events. Research a lunch or refreshment stop so you can really make the most of your time.
Visit the Caramel Festival
La Ferme des Cara-Meuh in Vains near to Avranches has held a caramel festival since 2017 (except during the pandemic). Originally a dairy farm, it is now home to cows, bees, calves, pigs, chickens, peacocks and donkeys. The festival will be held on 17th and 18th September 2022 and the programme will include visits to the farm animals, an organic food market and learning how the milk makes the caramels, cream, butter and cheese. You can also visit the farm shop to make your purchases.
Directions
The farm is at 11 Route de Saint Léonard, 50300 Vains on the D591. If you're coming from Avranches or Granville, follow the signs for the Ecomusée de la Baie
Notes
A full timetable for the weekend is available on the farm's website.
The event is free and so is the parking. You can buy food and drink for lunch and refreshment stops or even pack a picnic as there are picnic tables available. The farm is open for most of the year apart from Christmas Day, New Year's Day and an annual break in January. Their website has full details.
Dahlias, Dahlias and More Dahlias
The annual Dahlia and Garden Festival takes places in Coutances throughout September. It has to be seen to be believed as there are over 300 different varieties of dahlia on display in the open air. The very colourful display is held in a garden centre which is part of the horticultural college. Normandy in September offers huge variety for visitors whatever their interests.
Directions
From Coutances take the D20 signposted towards Bricqueville and Montmartin (and Lycée Agricole). Take the first turning on the right onto rue La Quibouquière following any signs saying Lycée or Garden. Follow the road up the hill until you reach a large greenhouse.
Notes
The festival runs from 27th August through to 25th September 2022 from 2 – 6pm each day. Entry is 5€ with under 12s going free. Parking is free. More information is available from the Coutances Tourist Office.
A Day At Lessay Fair
The agricultural fair in Lessay is one of Normandy's oldest and largest. It's believed to date from 1166 and was initiated by Benedictine monks to ensure the prosperity of the town's abbey. There are animals on display, animal competitions, stalls selling farming equipment and also a fun fair. You can eat and onsite at one of the many food trucks. The fair attracts over 350,000 visitors from all over France.
Directions
Head towards Lessay and follow the signs and the traffic. Allow plenty of time to get there and avoid the area if you're not visiting. The main road through the town is blocked so it does get very busy. The fair will be held from Friday 9th to Sunday 11th September 2022. There's information on the Lessay website about the Foire Sainte-Croix.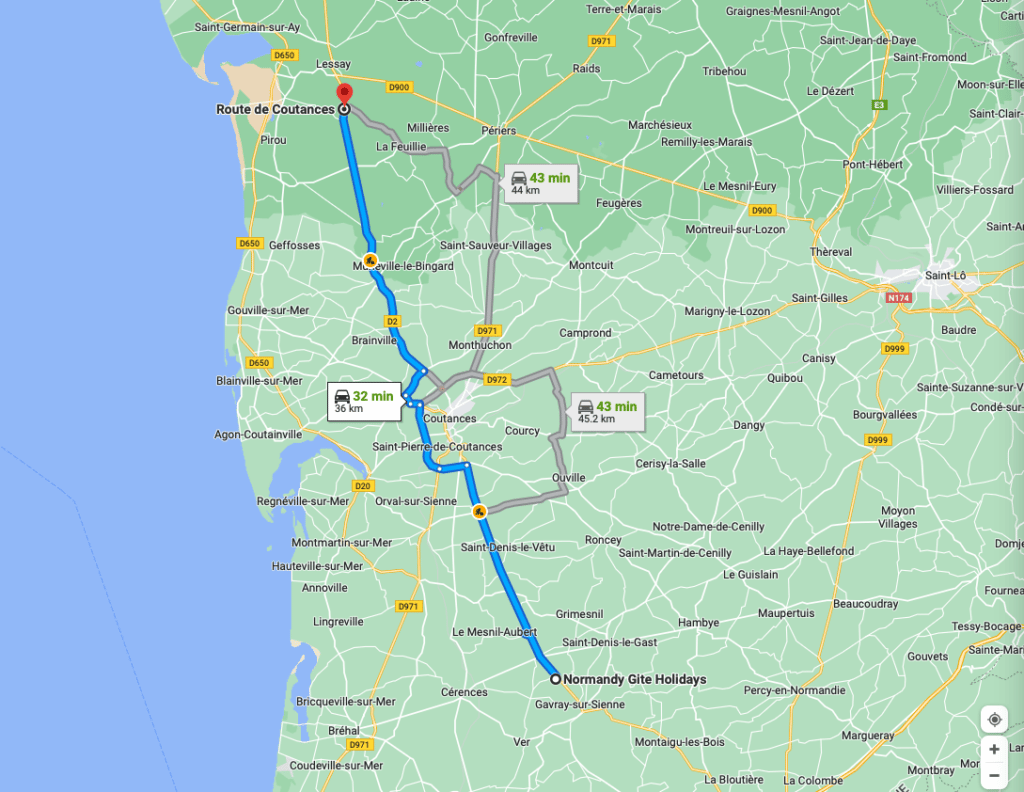 Observe The High and Low Tides
Normandy's coastline is ever changing depending on whether there's a high tide or a low tide. You can consult the tide timetable www.maree.info to check the coefficient number for a certain day. The higher the number, then the higher the tide with anything over 90 considered a high tide. When the coefficient is 110, Mont Saint Michel island gets completely cut off from the mainland for a few hours.
Equally impressive are the low tides as huge expanses of beach are exposed. It's also the opportunity to indulge in some foraging by foot fishing or peach à pied as it's called. There are strict rules about what you can and can't collect and also the quantity to make sure reserves aren't abused. If you visit a beach at low tide you'll see a procession of locals heading to the shoreline with rakes, trowels and buckets to dig in the sand for small crabs, clams, prawns, oysters and mussels.
High tides with a coefficient over over 90 will happen between 9th to 14 September 2022 and also 26th to 29th September 2022.
Directions
Beaches that are good for fishing on foot include Agon-Coutainville, Gouville, Blainville and Coudeville.
Notes
Check the tide timetable for low tide timings. You can also collect a leaflet at a local tourist office showing what you can collect and the quantities allowed.
Other things to do in September in Normandy include the cathedral lightshow in Rouen until 17th September; David Hockney's exhibition of his giant fresco entitled A Year in Normandy at the Bayeux Tapestry museum from 22nd September onwards; and Steve McCurry's photo exhibition in Caen until 29th September.