Les Braves; this beautiful steel sculpture has been on my 'to-do' list of places to visit for quite some time. I came across a photo of it online not long after I moved to Normandy and it mesmerized me. On a cold but sunny February day, I headed off to see 'Les Braves'. It's set on Omaha beach just 10 meters or so from the shore at Saint-Laurent sur Mer.
 Les Braves – a personal reflection
There are 3 elements to the sculpture representing hope, liberty and fraternity. The central structure's message is about standing up for freedom. On one side are the wings of hope and on the other are the wings of fraternity in homage to those who paid the ultimate sacrifice. As I stood taking in its beauty, I thought of all those men who didn't make it, who were so near and yet so far. The symbolism of the sculpture being located on the beach so close to the shore really made me reflect.
Omaha beach spans 4 miles of the Normandy coastline between the villages of Vierville, Saint-Laurent and Colleville. The villages are set back from the shores; the 1st and 29th US Infantry Divisions faced considerable challenges to navigate the beach and the cliffs due to the German defences in place. Les Braves was inaugurated on 5 June 2004 – the day before the 60th anniversary of D-Day. Another memorial on the shore is also dedicated to the soldiers who fought for freedom in 1944.
Les Braves stands 9 meters high, measures 15 meters wide and weighs in at 15 tonnes. It was made in Normandy thanks to the support of Monsieur and Madame Jean Paul Delorme. It was given with thanks to the men who liberated France and Europe.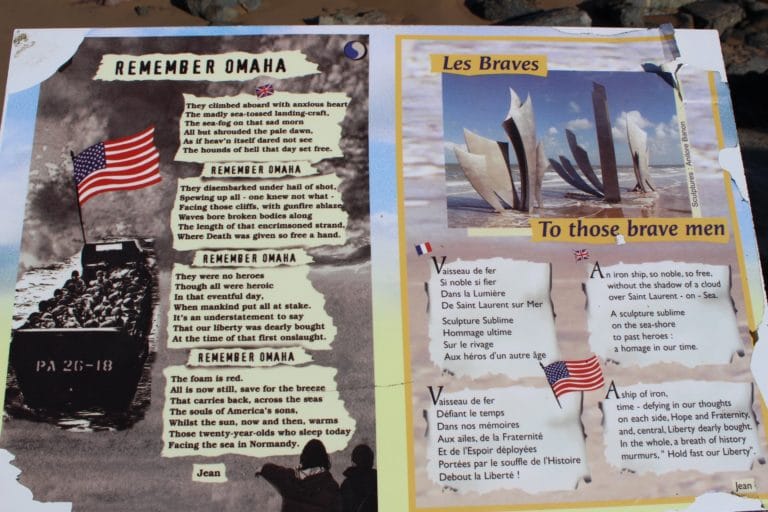 My pictures show this amazing steel sculpture glinting in the sunlight as the waves gently lapped around its base. A far cry from the scene in 1944 as those brave soldiers fought D-Day's bloodiest battle on Omaha Beach.
Watch the video of Omaha Beach.
We spent 3 weeks creating the best online guide to Normandy on the web. It includes everything from a bucket list, must see attractions to the best places to eat and drink.
It covers Mont St Michel, Monet's garden, the D Day beaches, wine tours and much more. .
It's packed with our personal recommendations, maps and videos.
CLICK HERE FOR OUR THINGS TO DO IN NORMANDY GUIDE
Let's be social
Please share my posts