Are you thinking about a winter trip to Normandy but are concerned there might not be enough to do? While it's true that the main tourist season is Easter to the October school holidays, Normandy doesn't close down completely. This Top 10 list will show you there's no shortage of activities even in the winter months.
1. Visit Mont-Saint-Michel
The jewel in Normandy's crown. A magnificent island commune topped with an abbey spread over three levels. It can get busy during the summer months so out of season is the perfect time to explore. Some restaurants, bars and shops may not be open all year round but you can check the list in this guide.  The abbey is closed on 25 December and 1 January during winter.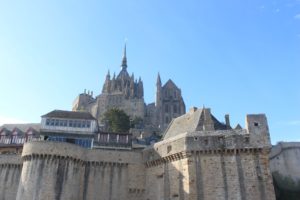 2. Take A Walk On the Beach
With an extensive coastline, there's no shortage of beaches. Even in summer, they're not crowded. Read more here.
3. Potter Around A Local Market
Most towns have a weekly market even during the winter months. Many sell fruit and vegetables alongside local food and drink produce. A great opportunity to shop like the locals.
4. Explore A Nearby Town
I live equidistant from the towns of Coutances, Granville and Villedieu-les-Poêles. They all have something different to offer.
Granville has a harbour and a bustling centre town centre. It contrasts with the peace and quiet of the high town with cobbled streets and fortified walls. The Christian Dior museum is located just outside the town.
Villedieu-les-Poêles is known as the copper town. It is home to 35 historic workshop courtyards where pan makers, lace makers and coppersmiths used to work. There's also a bell foundry.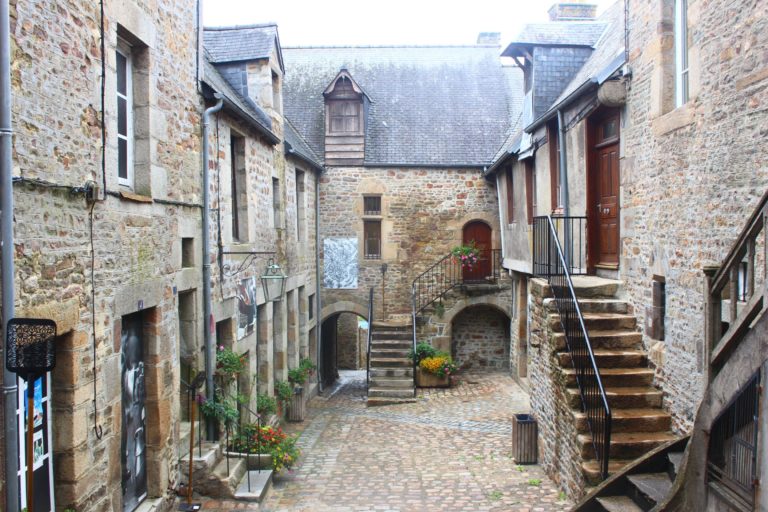 Coutances has plenty of historic buildings – the cathedral, chapels, two churches, the town hall and the hospital quarter. Nearby are colourful beach huts, a ruined castle, a nature reserve, lighthouse and lime kilns.
5. Learn About D-Day
There are over 100 sites relating to D-Day including cemeteries, memorials, museums, beaches and batteries. Check this page to find out what's open during the winter months.
6. Celebrate Being A Foodie
Normandy is bursting with delicious food and drink. Find out more about local specialities here and the top 10 Normandy foods.
7. Visit A Chateau or Abbey
Here's my top 10 list of chateau and abbeys. The features ones are all in La Manche region but there are others throughout Normandy. Information is here. Check the details for opening hours.
8. Discover Medieval Bayeux
There's more to Bayeux than just the tapestry and you can easily spend a day here. If you are visiting in January the tapestry museum is closed and re-opens at the beginning of February. You can find out more about the key Bayeux sites here.

9. Take a Day Trip
If you want to venture a little further afield, a trip to St Malo in Brittany might fit the bill. It's around a 90 minute drive away. Read more about it here.  The seaside towns of Honfleur and Deauville are around 2 hours but well worth the drive.
10. Be A Photographer For the Day
Even in winter there are some great photos to be taken in Normandy. Whether it's blue skies, amazing sunrises and sunsets or the winter luminosity, this time of year is a photographer's dream. Less people around means you can take your time getting a great shot to remember Normandy's beauty. Here's a year of my photos in Normandy.
There's more inspiration for Normandy winter attractions in the video below. Alternatively, visit the Normandy website.
We spent 3 weeks creating the best online guide to Normandy on the web. It includes everything from a bucket list, must see attractions to the best places to eat and drink.
It covers Mont St Michel, Monet's garden, the D Day beaches, wine tours and much more. .
It's packed with our personal recommendations, maps and videos.
CLICK HERE FOR OUR THINGS TO DO IN NORMANDY GUIDE
Let's be social
Please share my posts