Things To Do in Normandy in November
My top five things to do in Normandy in November will give you some inspiration of how to spend your time here.
Observe A French Tradition
The 1st November is a public holiday in France and is known as La Toussaint which is the equivalent of All Saint's Day. Many shops, workplaces and tourist attractions are closed so do check if you plan to go anywhere. Church services will be held to commemorate the saints. The day is followed by a commemoration on the 2nd for departed loved ones (the Day of the Dead). As the 1st is a public holiday and the 2nd isn't, the two days have become intertwined over time. Traditionally people will visit the grave of their loved one, tidy it up and leave a pot of chrysanthemums.
At this time of year there are chrysanthemums everywhere. Florists, garden centres, nurseries and supermarkets stock huge displays of them in the run up to La Toussaint. The colourful blooms aren't only seen in cemeteries as towns and villages are also decorated. Chrysanthemums are used to fill pots and planters during October and stay in place throughout November. If you've ever been to France for the October half term holidays and wondered what all the chrysanthemums signified, then now you know.
Enjoy A Final Ice Cream of The Season
Until the 6th November some ice cream outlets will be open as it's the second week of the Normandy school holidays. And, you never know, the weather might be unseasonably warm. Usually they will be open in the afternoons.
The best ice cream as far as I'm concerned is in Isigny-sur-Mer and the home of Les Caramels d'Isigny. Their shop originally started producing caramels made from Normandy milk. Over time they have expanded their range and sell biscuits, chocolate, cheese, butter, milk and cream. Oh, and ice cream too! Do make time to visit the shop and prepare to be tempted by all the delicious goodies. There is a kiosk on one side of the shop where you can buy the ice cream.
Isigny ice cream comes five flavours which are vanilla, strawberry, caramel, strawberry/vanilla and caramel/vanilla. You can choose between a cornet or a tub and can opt for strawberry or caramel sauce on top of the tubs. The large size is 3,50€ and the small one is 2,50€. I'd really recommend going for the large size as it's totally worth it. It is the best ice cream I've ever had with subtle natural flavours rather than an over-powering artificial taste. 
The ice cream kiosk for Yver Chocolatier will also be open until the 6th selling ice cream scoops in a wide range of flavours. It's by the Plat Gousset beach in Granville.
Indulge In Spot of Haute-Couture Culture
The exhibition at the Christian Dior museum in Granville was due to close at the end of October but has now been extended. The theme this year is hats and the title of the exhibition is Chapeaux Dior! which might also be a play on words. To say 'chapeau' is crediting or praising someone as it means 'hats off' or 'well done'. 
While the majority of the display items are hats although there are some outfits too. The exhibition spans the decades from Dior himself to Stephen Jones who became the official Dior milliner in 1997. Jones' designs combine British eccentricity with Parisian elegance and a belief that hats are wearable sculptures. On the top floor of the house a video in English tells Jones' story and his collaboration with the Dior brand.
You can visit the exhibition between 10am to 12.30pm and also 2 – 6pm every day until 13th November. Villa Rhumbs was Dior's childhood seaside home and a beautiful late 19th century building.
Get Into the Christmas Spirit
In preparation for the festive season some Christmas markets are planned from late November onwards. 
Montmartin-sur-Mer will hold their Marché Saint-Nicolas on the 19th and 20th November. Around 15 exhibitors will be selling local food and drink produce and home-made items suitable for Christmas gifts. The event will be held from 10am to 7pm on the Saturday and 9am to 7pm on Sunday in l'espace culturel in Montmartin-sur-Mer. Entry is free.
From 26th to 27th November the village of Gratot will also hold a Christmas market. There will be 35 exhibitors offering a wide range of present ideas for family or friends.
On Saturday you can visit between 2.30 and 7pm and on Sunday between 10am to 6pm. Father Christmas will be visiting each day at 3.30pm. Entry is free. 
In the meantime you can indulge in some Christmas chocolate as its starting to appear in the shops.
Visit A National Monument For Free in Normandy in November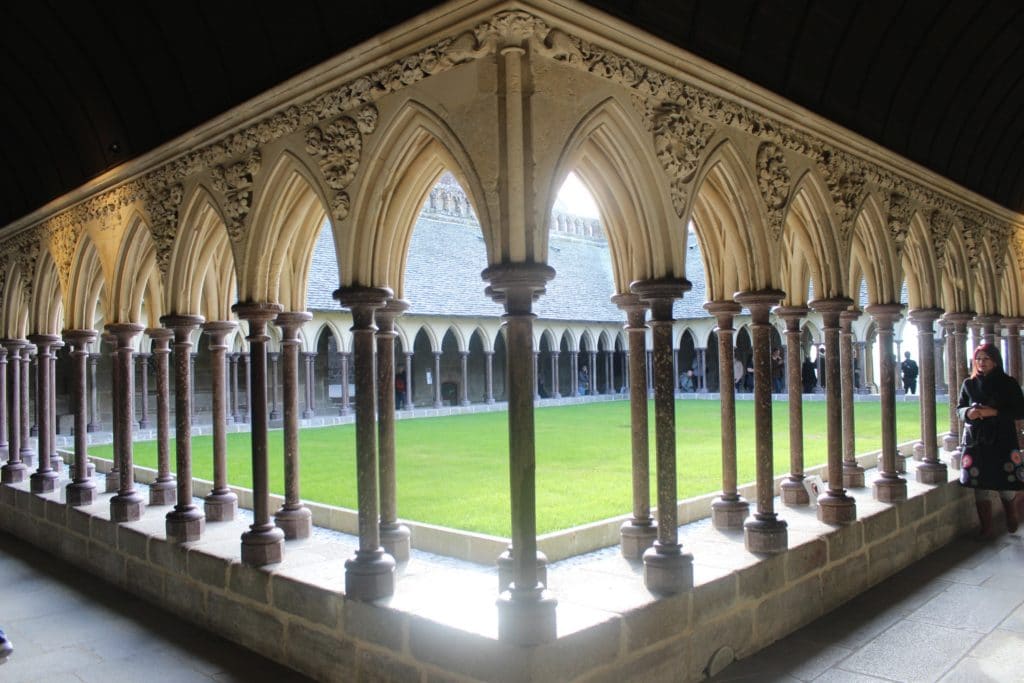 The Centre des Monuments National offers free entry to a number of Normandy sites on the first Sunday of every month during the winter and early Spring. From November to March inclusive you can visit Mont Saint Michel abbey although tickets are limited and must be booked in advance. The Château de Carrouges as well as the Abbaye du Bec-Hellouin have the same arrangement from November through to May.
I took advantage of this in November 2016 by visiting Mont Saint Michel. It was a very enjoyable visit exploring the island and the abbey on a sunny day that ended with a fabulous sunset. Of course the weather can't be guaranteed but the views are amazing if it is.
Normandy in November can be great fun as there are still tourist attractions open as well as it being a month for fabulous sunrises and sunsets.