Le réveillon is the Christmas meal traditionally eaten on the 24th December in the evening. More recently families have started enjoying two celebration meals – one on the 24th and another on the 25th – particularly if they spend time with both families.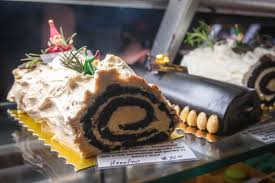 The entrée is very often oysters, foie gras or perhaps other shellfish. Goose, duck and turkey are popular for the main meal served with chestnuts and dates. The centrepiece of the meal is the bûche de noël – a French version of a chocolate log. To prolong the meal a cheese course can be added but this is eaten before the dessert. In Normandy a green salad accompanies the cheese. Champagne or fine wine and perhaps calvados as an apéritif or at the end of the meal.
The emphasis is very much on the quality, rather than the quantity of the food and drink and it's a time to spend with family. Bonnes fêtes!
There are some French recipes here https://www.frenchentree.com/living-in-france/food-recipes/main-dishes/recipes-for-a-traditional-french-christmas/?utm_content=bufferb9eb0&utm_medium=social&utm_source=facebook.com&utm_campaign=buffer
Let's be social
Please share my posts