For inspiration of what to do in Villedieu-les-Poeles, visitors can take a look at the 2019 tourist guide. It's produced in English and French and includes a map of the town to help you to plan your trip.
Villedieu is an historic town that once housed various artisan trades ranging from lacemaking to metalworking. The various trades were carried out in courtyards that radiate from either side of the main street. These courtyards also housed the artisans and their families on the upper floors of the narrow houses. The ground floor of each house was the workshop. There are a number of museums in Villedieu that explain the various trades in more detail.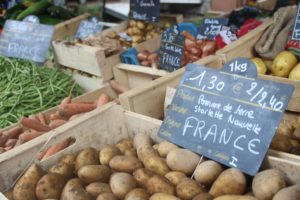 There's also a busy market in Villedieu, a bell foundry and a church. To discover the history of the town tourists can ask about tours at the local tourist office. The English version of their website is here.
In the area surrounding Villedieu you can visit the beautiful abbey at Hambye, take a trip to the zoo at Champreus or play mini golf.
The brochure is available in the tourist office or you can download it here.
Let's be social
Please share my posts