For fantastic Normandy family friendly activities, watch the video and then check out the list below. There's more to Normandy than history and heritage and it's unspoilt and laid back feel makes it very popular with families. Holidaying in Normandy is like going back in time and enjoying the sort of holiday you had as a child.
1. Mazes
There are 6 mazes in Normandy; 2 of them are in the Calvados region and the remaining four are in La Manche. Read about the maze near to Coutances here.  The theme and layout change every year so even if you've visited before there'll be something new to discover. The staff here speak English and you can do the maze in either French or English as there are separate activity sheets handed out.
Watch the Honfleur video (in French) for a flavour of what's involved when you explore a maize maze.
2. Rail-biking (vélorail)
Rail-biking involves cycling a specially designed carriage along dis-used rail tracks. the carriages need two people to cycle but there's room for additional passengers and you can change places so you can rest and admire the scenery. Read about the Vélorail de la Vallée de la Vire here.

3. Historic Normandy
Discover the history of Normandy by visiting one of the many sites suitable for families. Choices include Caen Castle (built by William the Conqueror), the D-Day Experience Museum at Carentan-les-Marais or the Airborne Museum at Sainte-Mére-Église. A trip to the historic Mont Saint Michel (an island commune topped with a gothic abbey) is on most visitor's bucket list. For more information visit this page.
4. Family friendly resorts
Read about 12 resorts offering a warm welcome to families in Normandy here.  You can enjoy entertainment and activities for all age groups.
5. Mini golf
This is a very popular activity for families. There are over 40 mini golf sites in Normandy and others within outdoor activity parks. The first few holes are relatively gentle to ease you into the game but they then get progressively harder. A happy few hours can be spent improving your technique for the trickier holes. Read about a trip to La Baleine near Gavray here.
6. The D-Day landing sites
The D-Day sites are probably best suited to older children who may have studied World War 2 as part of their history curriculum. A very family friendly site is the Caen Memorial, Centre for History and Peace (Le Mémorial de Caen). The museum is not only about World War 2 but is a very good place to start for an overview and inspiration for other sites you might want to visit. Watch the video in this link and read about the museum.
7. Water sports
Whether you prefer to be indoors or outdoors, there's plenty of options for getting on the water. Indoor choices include swimming pools, water parks and aquatic centres including water slides, plunge pools, water tunnels and aqua-gym.
Normandy's long coastline also makes it the perfect destination for surfing and paddleboarding/stand up paddle. There are sailing clubs and nautical centres dotted along the entire coast where you can enjoy these water sports. With over 50 to choose from, there'll be one not too far away.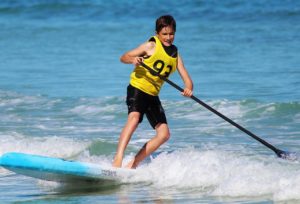 If you'd prefer a beach activity, then around 20 locations offer sand yachting. The Normandy coast experiences very high and low tides so when the tide goes out, it exposes huge expanses of sand. The perfect place for getting up some speed along the beach.
8. Activities for teenagers
Options include hiring a segway, paintballing, laser games, go-karting, zip wires, bungee jumping and escape rooms.
9. Animal Antics
There are three zoos in Normandy – at Champrépus, Hermival-Les-Vaux and Dialan-sur-Chaine. There are also animal parks, an aquarium which is part of La Citeé de la Mer in Cherbourg and two stud farms in St-Lô. This website  lists over 50 working farms you can visit (search for visite de la ferme). Many of them have animals while others produce apples and other fruit. There's even a snail farm.
10. Thrills and spills for all the family
For a day out with plenty of options, a theme or adventure park might fit the bill. These places have activities to suit young children, teenagers and adults so provides complete flexibility in one location. Ange Michel, Parc d'attractions near Saint-Hilaire-du-Harcouët has fairground rides, roller coasters, mini golf, trampolines, a ball park, water slides, flying chairs, a miniature train and much more. Visit their website at www.angemichel.com
For a complete range of Normandy family friendly activities, visit the Normandy Tourist Board website. It's time to make some holiday memories.
We spent 3 weeks creating the best online guide to Normandy on the web. It includes everything from a bucket list, must see attractions to the best places to eat and drink.
It covers Mont St Michel, Monet's garden, the D Day beaches, wine tours and much more. .
It's packed with our personal recommendations, maps and videos.
CLICK HERE FOR OUR THINGS TO DO IN NORMANDY GUIDE
Let's be social
Please share my posts