It can be overwhelming to plan a visit to the Normandy landing beaches. As well as the five beaches, there are also museums, memorials, bridge, batteries, statues, and sculptures. And they're dotted around a pretty large area.
Hints and Tips
There are five beaches, so the first step is to decide which one or ones you want to visit. This article gives an overview of each of the beaches and the key sites. If you already know which beach you want to visit, you can skip this step. Perhaps you have Canadian, American or British ancestors or family members who fought in the conflict. American forces tackled Utah and Omaha beaches, the Canadians took Juno while the British landed at Gold and Sword.
The next step is to use this article to familiarise yourself with the key sites. You'll be able to see photos, read a description, watch videos and get links to the majority of the attractions.
Then use this map to see how far things are from each other. This will help you to plan your day and the route you'll take. Check opening times for museums, visitor centres and batteries where you need a ticket. Not all sites are open all year round and some sites close for lunch. In winter sites tend to open later or close earlier due to the shorter days.
Also plan where you're going to have lunch. The majority of restaurants are only open between 12 and 2pm for lunch.

The pins on the map are colour coded according to the beach they represent. The turquoise ones on the left are for Utah beach and green is for Omaha. Gold has yellow pins, Juno is red. The  blue or purple pins on the right show the Sword beach sites.
Use a combination of both the map and the article as not everything appears in both places. For example, the Overlord Museum is very close to the American Cemetery in Colleville-sur-Mer but it isn't on the map. Equally, Les Braves memorial sculpture on Omaha Beach at St-Laurent-Sur-Mer is missing from the map.
Finally, be prepared for how you might feel visiting these sites. Emotional and poignant is how most people describe it. Discovering the challenges faced and sacrifices made gives a feeling of gratitude and respect.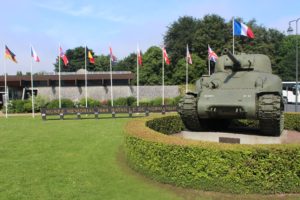 Let's be social
Please share my posts