I visited La Ferme de la Butte this week to sample and buy some Normandy cider. They're fairly local to me at around a 15 minute drive away. I include a bottle of Normandy cider in my welcome basket for guests so I wanted to check out this local producer.
Products
The farm produces sparkling cider (semi-sweet and dry), sparkling pear, calvados (an apple brandy) and pommeau which is an aperitif. They also produce their own apple cider vinaigrette and sell apple juice.
I sampled a semi-sweet cider (doux) which was very pleasant and you can definitely taste that it's made on a farm. The owner also offered me a pommeau.
At 17% it certainly warms you up and this was before 9.30 so it also woke me up. It's a lovely aperitif and is stronger than cider but not as strong as calvados.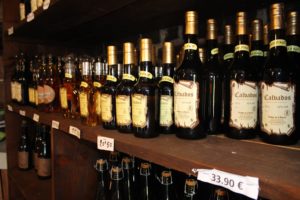 The calvados is aged in barrels for either 5 or 10 years and comes in various sized bottles from 20cl to 150cl. Here's their price list when you buy direct.
How To Find Them
This map shows their location. They are at 14 route Saint-Martin in the small village of La Meurdraquière in Normandy.
From the D7 take the road towards La Meurdraquière. This road is called Route du Doux Coeur. After around a kilometre take the turning on the right by looking for the signs to the farm. Carry on until you see this sign.
Here you turn left and then follow the road round to the right.
A Calvados Event in August
I chatted to one of the owners while I was there. She explained she moved to the farm in 1961 when she married her husband. The farm had belonged to his parents. At first they used to make cider and calvados and also sold apples. Gradually, they have added other products to their range. Their cider is sold in the supermarket and also convenience store in Gavray. From Wednesday 7th to Friday 9th August they'll be open from 10am and you can watch how calvados is made.
I really enjoyed my visit. I bought some cider and added it to my current guests' welcome basket. I hope they enjoy their Normandy cider.
Let's be social
Please share my posts