The new 2020
tourist guide for Villedieu-les-Poêles
has just been published. It's available to download or you can pick up a copy from the
Villedieu tourist office
. It's jam-packed full of inspiration of what to do in Villedieu and is written in French and English.
A Stroll Around Villedieu
A walk around Villedieu is one of the best ways to discover this historic town that was established in around 1130. There are 14 orange and brown information boards in both French and English to guide you as you walk through centuries of history.
Villedieu is relatively compact although this walk could take you around an hour and a half. Much will depend on how much you linger at each information board. The town is built on a slope so not all of it may be suitable for everyone. However, there is a reasonable amount that is flat. There are also cobbled streets and courtyards to explore.
Leaflets about Villedieu
Go inside the Tourist Office and pick up a copy of a brown A5 leaflet called Villedieu-les-Poêles – a trip through history. They have versions in both English and French. There's a map at the back of the leaflet and additional points of interest to explore. Not all of the 14 historic boards are marked on the map. However, the location of all the boards is shown on the first information board located just outside the tourist office.
This, together with the information below will help you to find all 14 information boards and learn about Villedieu-les-Poêles.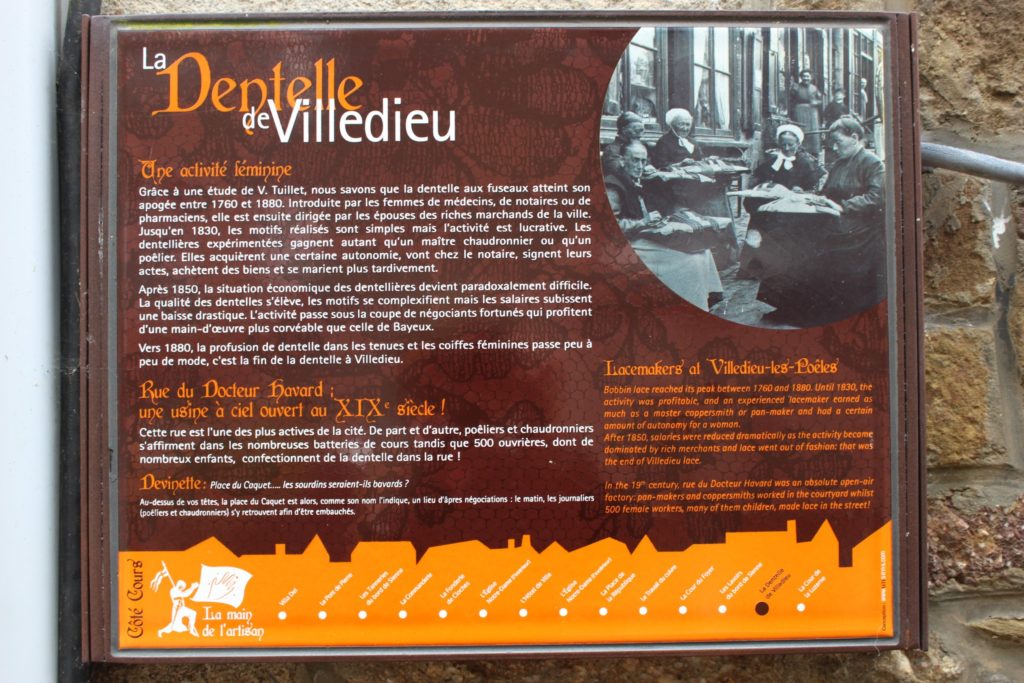 Information Boards
The 14 information boards are as follows:
1. Villa Dei – Villedieu
2. Le Pont de Pierre – The Stone Bridge
3. Les Tanneries du Bord de Sienne – The Tanners on the Banks of the River Sienne
4. La Commanderie – the Commanderie
5. La Fonderie des Cloches – the Bell Foundry
6. l'Eglise Notre-Dame (interieur)- Notre-Dame church (interior)
7. L'Hôtel de Ville- Town Hall
8. L'Eglise Notre-Dame (exterieur) – Notre-Dame Church (exterior)
9. La Place de la Republique
10. Le Travail du Cuivre – The Copper Trade
11. La Cour du Foyer – The Furnace Courtyard
12. Les Lavoirs du Bord de Sienne – The Wash houses on the Banks of the River Sienne
13. La Dentelle de Villedieu – Villedieu Lace
14. La Cour de la Luzerne – Luzerne Courtyard
As well as discovering the artisan trades that were practised, you'll also walk past various museums, the town hall and the church. For more information about this
self guided walk around Villedieu
click the link to my blog post.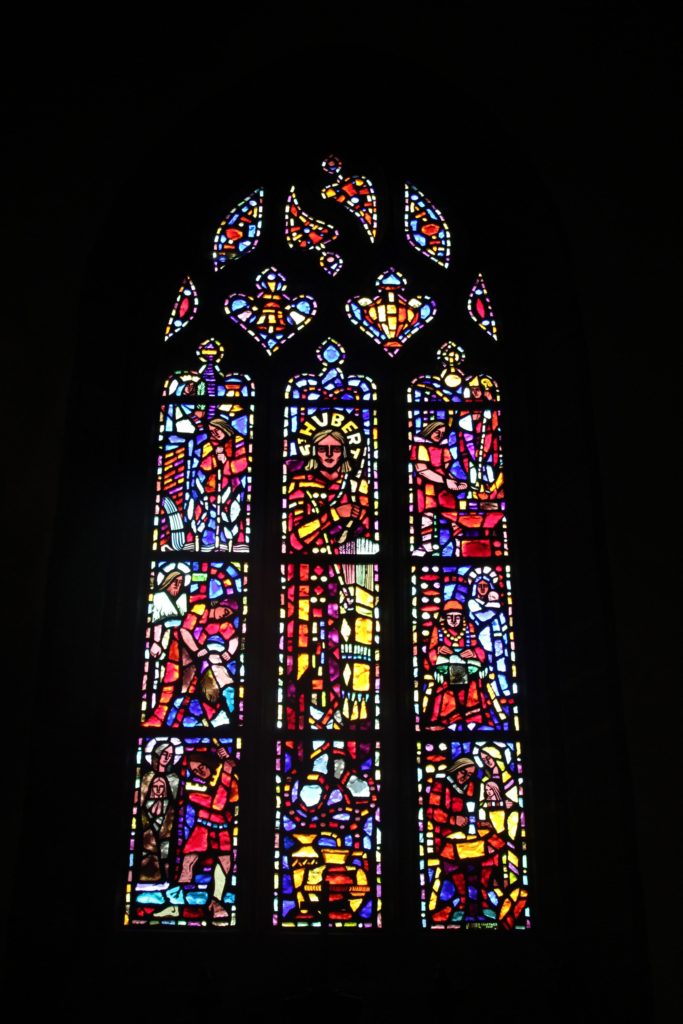 Visit the Twice Weekly Market
The big Tuesday morning market has stalls in the main street, opposite the church and opposite the tourist office. Allow extra time to park as most of the stalls are on areas where you can normally park. Fruit, vegetables, spicy sausage, honey, cider and cheese might tempt you as you wander around the market. There is a smaller market on Friday mornings
Discover the History and Heritage
The courtyards, museums and the church give an insight to the history of the town. Just outside Villedieu is a fantastic abbey dating from the 12th century. Read about
Hambye abbey
here.
Explore the Great Outdoors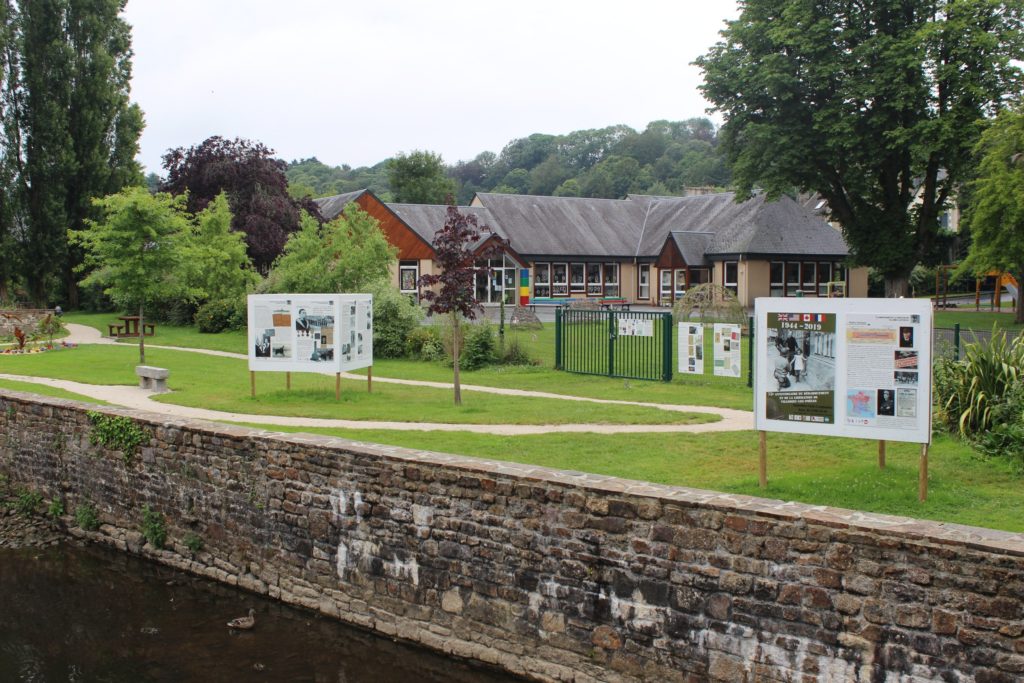 There are a number of small parks and gardens detailed in the tourist guide on pages 22 and 23. For young children there are a couple of places with swings etc. If you'd like to be a little more adventurous you can drive up to Mont-Robin near Percy for great panoramic views towards Villedieu and the surrounding area. This is a great spot for a picnic. For the more active, the tourist office has maps of circular walking routes that they've tried and tested. Some routes are also available to download
here
. Other outdoor activities include go-karting, paintballing and a mini farm at Circuit du Parc and mini golf at Beslon both outside Villedieu.The Champrépus zoo and botanical gardens are very popular with families. There is plenty to see and do here and most people spend a minimum of half a day here.
Eating Out
Whether you'd like to have lunch or an evening meal out, Villedieu has a range of restaurants and pancake houses. There are also bars and cafes for some liquid refreshment. Details of local food producers are on pages 34 and 35 of the tourist guide. Farm produce is available at a number of local outlets and is detailed on pages 36 and 37.
So, pick up the brochure or download it for more information of what to do in Villedieu. Let's be social
Please share my posts