Looking for ideas for what to do during October in Normandy? The weekend of the 18th to 20th October is La Foire Saint-Luc. It's held just outside Gavray and is a typical Normandy country fair.
More than 600 exhibitors and 100,000 visitors are expected over the three days. The fair is one of the oldest in La Manche and dates from the late 12th century. Cattle, horses, dogs and poultry will all be on display together. Other entertainment will include country dancing.
And don't miss the tent displaying the pumpkins. There's an annual pumpkin decorating competition with categories for different ages and also adults. This was one of the stalls on the market in Gavray last weekend and they'll have sold out very quickly.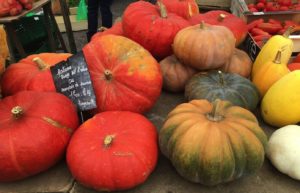 For foodies, there will be food tents galore and cookery demonstrations. You can find out more information on the Gavray website. For other events happening in October in Normandy, the Tourist Board website has more details.
Let's be social
Please share my posts