A Normandy Water Mill In a Beautiful Setting
This chocolate-box Normandy water mill in Rethoville dates from the 18th century. It's in the north east of La Manche region of Normandy between Cherbourg and Barfleur. Originally called la Coudrarie water mill it's now known as the Marie Ravenel water mill. This is in homage to the miller's daughter and celebrated poet who lived there for 31 years.
The water mill is located in the left hand side of the building next to the living quarters and the flour mill. The living quarters comprise of a downstairs room which was partitioned off from the machinery. Upstairs was another room where the family slept.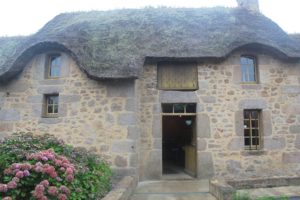 The Flour Mill
The wooden trap door above the main door was how the heavy sacks of grain were taken upstairs and tipped into the grain hopper. A pulley was used to hoist them up to a chute in the attic space.
There are two flour mills and each has a pair of millstones. The bottom millstone is fixed while the top one can be moved. The grain is crushed between the two stones as they spin round and then sifted and graded according to how fine or coarse it is. You can see in the photo below on the right that there are four jars of flour. The jar on the left is the finest flour and is white while the jar on the right hand side is a more rustic product.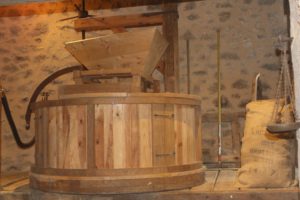 The stones are powered by the watermill. A sluice is opened, water pours onto the mill wheel and the weight of the water makes the water mill turn. The water wheel is attached to each flour mill by an axle so the speed of the millstones can be increased or decreased.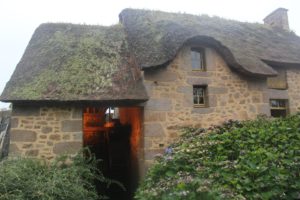 To the right of the flour mill and living quarters is a room that has been added subsequently and is fitted out as a 1950s school room. The original stables and the bakery complete the buildings available to visit.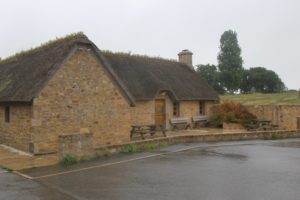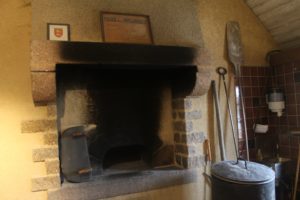 The mill is open from April through to September with planned visits at set times on certain afternoons. More information is on their website. Tours are in French and last around 30 minutes. It costs 4€ for the tour, it's free for children under 7 and there's a reduced rate of 1,50€ for under 18s. There are also some bread workshops organised for children where they learn how to make bread and take home what they've produced. It's a very charming, thatched roof building set in a picturesque spot.