What would be on your top 10 Normandy foods list? There's certainly plenty to choose from but here's my suggestions for foodie treats you should try on your next trip.
Apple juice, cider, pommeau and calvados
The rich and fertile soil provides the perfect growing conditions for bumper crops of apples. From September through to October almost every household picks apples from their tree. Small producers bottle the fruits of their labour and you can buy the wide variety of products they produce. You can visit this nearby farm, learn about cider production, visit the museum and indulge in a tasting.
Mussels
Practically every restaurant in Normandy features mussels on their menu in season. Moules frites is what you should look for on the menu. Although the dish originates from Belgium, mussels are plentiful in Normandy due to the favourable coastal conditions.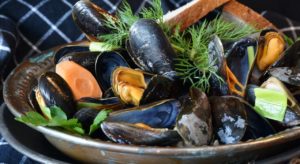 Cheese
In Normandy there are 4 regional cheeses – Camembert, Livarot, Neufchâtel, and Pont-l'Évêque. Eating cheese seems to be a national past-time with the average person consuming around 25kg. That's 25kg per year! So, how is so much of it eaten? Firstly, the quality of the product is excellent. Normandy's extensive dairy industry means cows feast on lush green grass. Secondly, it is just the French way of life with most main meals including a cheese course. However, it's eaten before dessert and with bread rather than crackers. In Normandy a dressed green salad is served with it. And, of course, it wouldn't be complete without a glass of red wine or cider.
Camembert is the most well known of the Normandy cheeses. It's produced throughout Normandy and takes its name from the town of Camembert which is in the Calvados region. Many producers in Normandy still make camembert by hand and pour the milk mixture into moulds using ladles. The moulds are regular turned until the liquid has disappeared. The cheeses are then left to mature so that the skin forms and the cheese improves with age. In La Manche there are factories in Lessay and Gavray producing Camembert. Baked Camembert is my favourite way to eat this yummy cheese
Oysters
One in four oysters eaten in France comes from Normandy. There's an oyster bar in Agon-Coutainville and you can also visit an oyster farm in nearby Blainville-sur-mer or Gouville-sur-mer to learn how they're farmed.
Teurgoule
This creamy rice pudding is a Normandy speciality. Short grain rice, milk, sugar and cinnamon are slowly baked in the oven until the milk is absorbed and a crust appears on top. The pudding is then chilled before being eaten.


Caramel sauce and caramels
The caramels that are made in Isigny are beautifully creamy. Confiture de lait is the Normandy sauce that's equally delicious. It can be drizzled over yoghurt, ice cream or pancakes.
Shellfish
As well as oysters and mussels featured above, crabs, lobsters, whelks, scallops and prawns are also very popular. Many of the restaurants around the port of Granville specialise in seafood. Each September Granville hosts a seafood festival. Entry is free. It's called 'Toute La Mer sur Un Plateau' (Seafood On A Plate) and features cookery demonstrations, workshops and tastings. Seafood products are also be on sale to take away or to enjoy for lunch.
Crêpes
You may know them as pancakes. Most towns have a crêperie where the bulk of the menu is sweet and savoury pancakes. A galette is a savoury pancake and a crêpe is the sweet alternative. My favourite crêperie is in Granville high town and is called La Courtine.
Lamb
The lambs that graze on marsh land at Mont St Michel and around the Cotentin coast are used to produce a dish called agneau pre-salé. It literally means meadow salted lamb.
Pastries, cakes and breads
While there aren't Normandy specialities, the displays in the boulangeries and patisseries are simply amazing. It's difficult to choose a favourite but I've discovered an almond and chocolate croissant that is particularly yummy. The savoury baguettes are also hard to resist. You slice them into small morsels and serve them with drinks as a apéritif.
---
If You're Feeling Adventurous
A spicy smoked sausage called andouille is made throughout France with each region making it's own version. In Normandy, it is called Andouille de Vire and is made from pork chitterlings. Locally it is produced in Gavray at La Andouillerie de la Baleine. They've been making andouille since 1950 and have recently expanded to new premises. You can book at tour to watch how it is produced or visit the shop where it's sold together with delicatessen and local artisan products.
Buying Normandy Specialities At Markets
Markets tend to sell fruit, vegetables together with local produce such as seafood, cheese, charcuterie and cider. Some of the larger markets sell artisan breads, honey, livestock, plants, clothes and household items. They are very sociable events as they are supported by locals. And they're great for people watching if you can find a seat in a nearby bar. Markets are usually held in the mornings with stalls beginning to pack up at lunchtime. More and more local producers now have pitches at local markets. To find out where there's a market in La Manche, this article has the complete list.