One of the things I enjoy most about my life in France is taking photos of Normandy. It's an area brimming with history and heritage and the endless old buildings fascinate me. Many have been restored over the centuries – from chateaux and abbeys through to cathedrals and churches.
A few weeks ago saw the Journées des Patrimoines which is a weekend event celebrating history and heritage. The majority of buildings were free of charge to visit so I made the most of my time. My first stop was the ruined abbey at Hambye which is only around a 20 minute drive away from me. The weather was a little overcast but this is a beautiful building set in a calm and quiet location. Although the abbey church is ruined, many of the other buildings are intact and include a dormitory, kitchen, chapter room and sacristy.
I then drove to St Sauveur Le Vicomte which is in the north of La Manche region. It was my first time here and there's lots more to explore. I enjoyed a guided tour of the chateau and learned about the history of this building which is English in style. We were able to go into the donjon and climb up the spiral stone staircase to the top.
The views from the roof of the donjon allowed me to see the abbey which was next on my list of places to visit.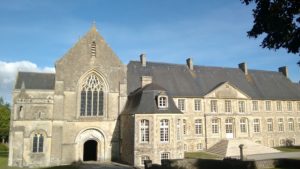 Fortunately the sun had come out during the late morning so the afternoon photos show some blue sky. I decided not to do a tour of the abbey but just wandered around taking photos of the architectural details and the stained glass windows.
My weekend of heritage wasn't over. On the Sunday I visited the chateau at Gratot which is near to Coutances. I've been here before a few years ago but hadn't explored all of it.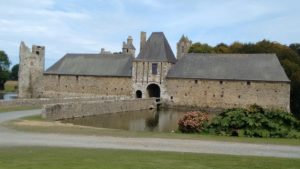 I ended the day at the St Pierre church in Coutances. It stands in the shadow of the cathedral and amazingly suffered very little damage during the second world war.
A busy weekend but a very enjoyable one. I visited some familiar places and others I'd not been to before. Even in places I've been to before, I still take photos as I discover things I've not seen before.
We spent 3 weeks creating the best online guide to Normandy on the web. It includes everything from a bucket list, must see attractions to the best places to eat and drink.
It covers Mont St Michel, Monet's garden, the D Day beaches, wine tours and much more. .
It's packed with our personal recommendations, maps and videos.
CLICK HERE FOR OUR THINGS TO DO IN NORMANDY GUIDE
Let's be social
Please share my posts