Barfleur is one of six Normandy villages to have been awarded the status of 'Les Plus Beaux Villages de France'. It is currently the only village in La Manche region to have received this honour. There's a very strict process before a village is even considered. Only 20% of all applications are accepted to ensure the quality badge means something.
You might feel a sense of déjà-vu when you visit the village. It's twinned with Lyme Regis in Dorset in the UK where some of the film The French Lieutenant's Woman was shot. There's a sense of familiarity particularly near the lifeboat station and church. A view of the village is depicted in one of the stained glass windows.

The street overlooking the pretty harbour is dotted with restaurants and brasseries serving traditional French fare. Many of them have outdoor seating where you can enjoy the view. Brightly coloured boats bob up and down at high tide or list comically to one side when the harbour empties at low tide.
Head to Rue Thomas Becket for a small range of independent shops and more eateries. The bustling weekly market is held on the quayside on Saturday mornings. In the summer there's also a Tuesday morning market.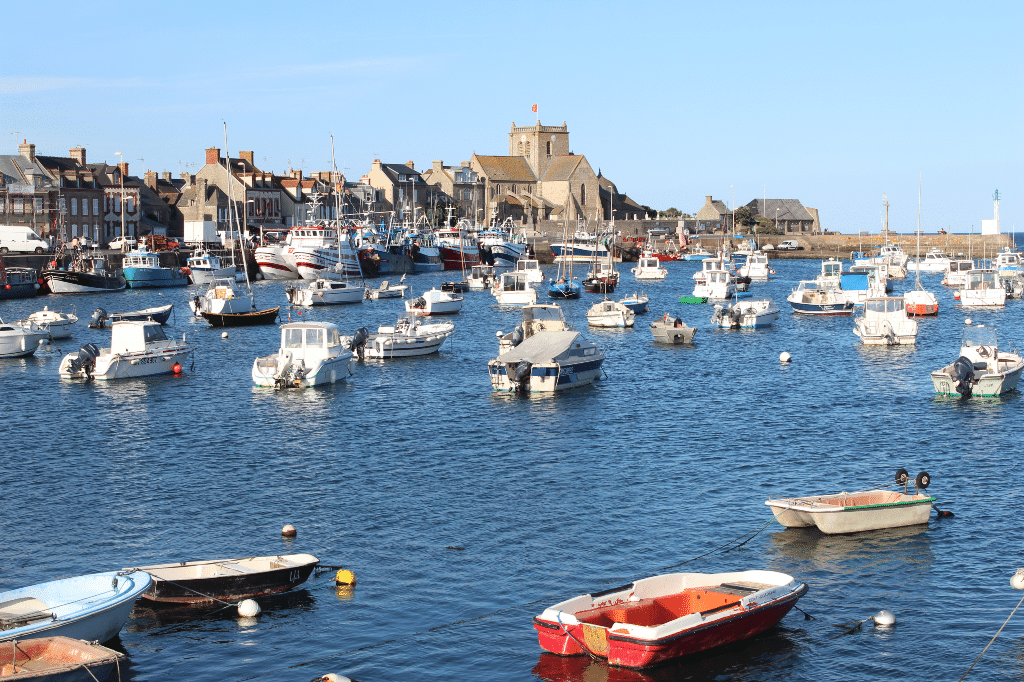 The opposite side of the harbour is where you get a great view of the village. Make your way to 'rue du 24 juin 1944'. You can park here and walk along the harbour wall. Particularly on a sunny day you'll see why Barfleur was chosen as one of the prettiest villages.
For more information visit Les Plus Beaux Villages de France website.