One of the highlights of being a holiday home owner is exploring the area I live in and sharing it with guests. I love heading out with my camera and taking photos of the area so I've had a scroll through my photo album to remind myself what I've been up to this year.
Normandy In Photos
In January the Normandy weather wasn't that wonderful but I did have a drive to a village around 20 minutes away called Regnéville-sur-mer where there's a ruined chateau and great views across the river.
I made two trips to the D-Day landing beaches in February; firstly to Omaha Beach and La Pointe du Hoc and later in the month to Utah Beach and Sainte-Mère-Église. There aren't really enough words to explain this – it simply was amazing. Both days were cold but sunny with clear blue skies. It was probably the highlight of my year.
I've subsequently added a very comprehensive guide to the D-Day landing beaches and surrounding areas. You can read it here.
In April I went back to the Omaha Beach area as I had a couple of volunteers staying and one of them had American heritage. I also stopped off at the Peace Statue near Grandcamp Maisy.
There was also a quick trip to Bayeux – somewhere I never tire of visiting.
April and May were spent working in the garden. I also took a guided tour around Regnéville which was delightful on a sunny day.
June involved trips to Omaha (yes, that was the third time already that year), Bayeux and a wonderful day out to St Malo. Read my in-depth article about the key sites in Bayeux.
I also visited a partly restored castle in Pirou and had a wonderful morning exploring.
The Marché Normand takes place in Gavray every July. The main street is blocked off and there are parades of tractors, cows, classic cars and people in traditional Normandy costumes. Dancing displays and music also entertain the crowds and the usual Saturday market is bigger than usual. It's a lovely atmosphere.
Later that month my family came over and stayed twice. We had our usual trip to Granville on a rather windy day.
August passed me by but as it's peak gite season I would have been up to my ears in laundry I guess. I did manage a trip to Villedieu-les-Poêles to explore the courtyards where artisans such as coppersmiths and lacemakers worked.
September was full of history and heritage. I had a trip to a water mill near to Cherbourg and also the Chateau de Carneville.
Later that month was a heritage weekend when many places are open free to charge. I went to Hambye Abbey and then up towards Saint-Sauveur Le Vicomte to visit the castle and abbey. The following day I visited the Chateau at Gratot (near Coutances) and one of the churches in Coutances.
In October I visited Granville – both the high town and also had afternoon tea in the main town.
The first Sunday in the month from November through to March means that entry to the abbey at Mont Saint Michel is free. The weather was lovely and sunny and the tide was out so a perfect opportunity to take more photos of my favourite place. I've written about how to make the most of a visit to Mont-Saint-Michel here.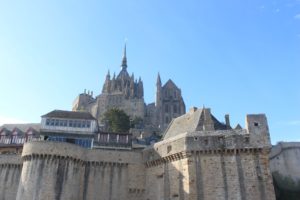 In December I went to see the son et lumière show on the exterior of Coutances Cathedral. It's the first time this event has been put on and I really enjoyed it.
So, that's been my year in Normandy in photos. I hope that my guests have enjoyed discovering Normandy as much as I have. As we approach the end of the year, I'd like to wish you the most amazing 2019. May it be peaceful, happy and healthy.
We spent 3 weeks creating the best online guide to Normandy on the web. It includes everything from a bucket list, must see attractions to the best places to eat and drink.
It covers Mont St Michel, Monet's garden, the D Day beaches, wine tours and much more. .
It's packed with our personal recommendations, maps and videos.
CLICK HERE FOR OUR THINGS TO DO IN NORMANDY GUIDE
Let's be social
Please share my posts